A page for Casey Siemaszko

Casey Siemaszko first appeared in the movie Class in 1983. He built an impressive resume in the 1980s co-starring in such films as Stand By Me, the first two Back to the Future movies, the cult 'classic' Three O'Clock High,, the John Sayles scriped Breaking In, and who could forget Young Guns...

While his films in the 1990s might not been quite so... memorable (The Big Slice?), Casey worked steadily throughout the decade appearing in both theatrical releases (Of Mice and Men with Gary Sinise and John Malkovich; the John Sayles-directed Limbo with David Strathairn) and made-for-TV movies (the Hallmark Hall of Fame Rose Hill with then-unknown Jennifer Garner; the highly entertaining Stephen King miniseries Storm of the Century).

Casey's first film of the 21st century was The Crew (2000), in which he played the younger version of Richard Dreyfuss's character (an actor he had been compared to in past reviews). It would be his last film appearance until the 2006 comedy Waltzing Anna.

Besides films, Casey had numerous guest starring appearances in such television shows as Law and Order, Oz, and most notably in the recurring role (2002-2003) as the bitter, drunken Captain Fraker in NYPD Blue. He was one of many actors to "appear" in the video game Grand Theft Auto: San Andreas (2004) (his sister Nina Siemaszko was another) and has also done voice over work for such other games as Red Dead Revolver (2004), along with numerous radio and television advertisements.
---
Casey appeared in two episodes of the short-lived TV series Falcone. (2000)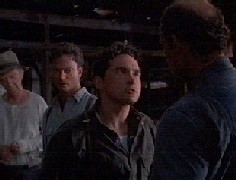 in one of my favorite of his movies, Of Mice and Men, as the viscous Curly
See if you can catch one of Casey's movies or guest star appearances on TV this month. click here or click here for a listing of all of his guest starring appearances.
Casey's Recent Work:
(I keep this section updated to the best of my abilities. If anybody knows of any new releases of Casey--commercials, even--that I don't have, please let me know at mntillinghast@yahoo.com)Or else it's as good as the IMDB, which is always the best place to start.
Films
Casey had a co-starring role in the ...unusually titled The Boy Who Cried Bitch: The Adolescent Years. Adam LaVorgna (Seventh Heaven) starred.
Casey also appeared in the film Waltzing Anna as Dr. Jeffrey Webb, co-starring alongside Emmanuelle Chriqui (Entourage), Pat Hingle, and Artie Lange.
Television
Casey had a guest appearance in the Fox series New Amsterdam in 2008. He also appeared in several episodes of the FX series Damages as Detective Dan Williams. Damages aired in the summer of 2007 and is available (and 'recommended') on DVD.
Casey has apparently does a lot of voice over work in commercials, both in radio and television. One more recent appearance (2007) was for Boar's Head. Unfortuntately, I do not have a complete listing of other commercials past or present.
Casey is represented by the Abrams Artist Agency.
---


This page has been visited
times.


(since it was last reset)

Please come again!

Please email me with any information, comments, complaints, suggestions, etc at mntillinghast@yahoo.com